The Project: I want to be a successful artist. What does that mean? How do I define "artist"? How do I define "success?" I want to interview fellow artists for my own and others' inspiration.
Notes: I started with artists I know personally very well, and the first 5 interviews came together in a mini-series of emerging artists. The 5 interviews in this series were transformed into mini-zines with hand-drawn portraits of the artists and other details by me. These are available for purchase at my Etsy shop ronddejambe.
More interviews are in the works…
Some names have been abbreviated at the request of the artist. Information regarding the artist has been reviewed and approved by the artist.
Interview #4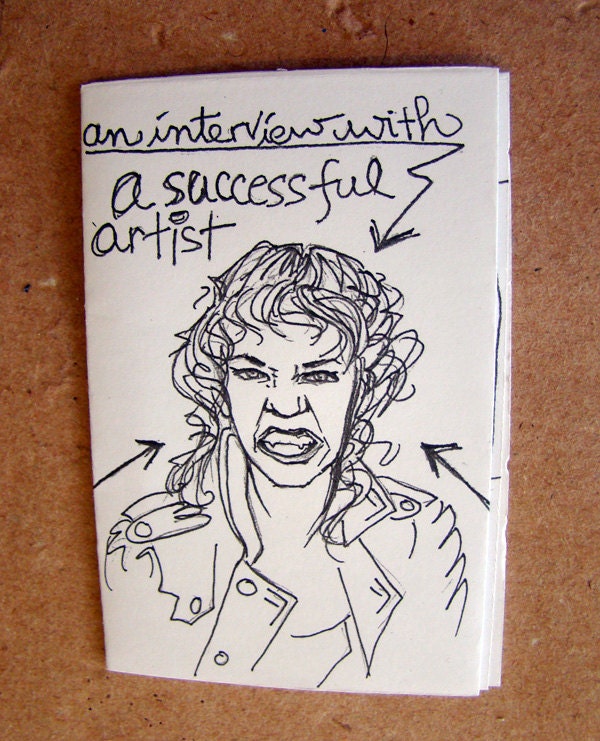 The Artist: Esmeralda Kundanis-Grow is a dancer, teacher, and artist currently based in San Francisco. She teaches Rhythm & Motion at ODC and creative movement for public school students.
I met Esme at the University of Colorado at Boulder. These days, when we hang out, we talk about dance, the art community here, and being successful as an artist.
LB: When people ask "what do you do?" how do you describe your work?
EKG: I always say I'm a dancer. I'm new to teaching dance. I'm new to calling myself a teacher. I say professional dancer as well, but with quips. I got a degree in dance, but I'm confused as to when you get to call yourself a "professional."
LB: How did you get started being a dancer?
EKG: I started when I was a kid, improvising to music in my room, having fun. My mom put me in studio classes, but at first I got kicked out. I was too wild. I wanted to run around barefoot, not in ballet slippers.
LB: What do you struggle with when it comes to your work?
EKG: I struggle with thinking too much, labels, what it means to create something new, not always being autobiographical, texture, subtle changes in body, criticism, how people view my profession, & family.
LB: What is your approach to that struggle?
EKG: My approach is to bring an awareness to find a different way in. To acknowledge what I'm up against, and to make work about it. To allow myself to make work I don't think is great. Be present. Push myself.
LB: If someone said, "I want to do what you do," what advice would you have?
EKG: Listen to your body, explore different dance environments, remain open-minded, go back to ones that really grab you & propel you down that dance tunnel. Find what drives YOU. I have my own path. Living through other artists is not always good.
LB: Have you ever asked someone that? Who has inspired you?
EKG: I've been very lucky that people I admire have been very open & shared their experiences, contacts, & info. They've always said, it's gonna be hard. O.O. at CU inspired me to teach. G.T. – now here in SF, too – I reference him for multimedia exploration. Those two, their voices are always in my head.
LB: What are your goals when it comes to your work?
EKG: I have different goals for my different roles. But overall, my goal is to continue being both student & teacher. After school, you become your own motivator. I want to be constantly learning.
LB: Essentially, what makes you passionate about your work?
EKG: The way dance makes me feel, grounds me, connects me to my body, & makes me ask hard questions. It exposes. It makes my heart happy. It's so… It makes me gleeful.
It lights me up.
It makes me feel closer to my soul.
LB: Do you think of yourself as an artist? Why or why not?
EKG: In school, I thought of myself as an artist. In the "real world," I just feel like a human who loves to create and do things. I'm a body that moves.
LB: Do you think of yourself as successful? Why or why not?
EKG: Success to me is really being happy, content, & sharing that with people I treasure. I just moved here, so I'm building that.
Esme's work can be seen on Vimeo with Es Mara & Tilt Productions.
Much thanks to Esme for this interview!

Purchase this interview in all its mini zine glory HERE